"How wonderful it is that nobody need wait a single moment before starting to improve the world." - Anne Frank
Our Curriculum Structure
Our history curriculum has been designed to reflect the needs of all our learners, as well as allowing them to access the wider cultural make up of Britain, and the wider world. Through evaluative and strategic practice, we have established a meaningful curriculum that allows our pupils to develop their historical knowledge and enquiry, whilst attaining a deeper understanding of key concepts. These concepts are constructed of 'pillars' that underpin the history curriculum and they aim to allow children to make links and ultimately, know more and remember more: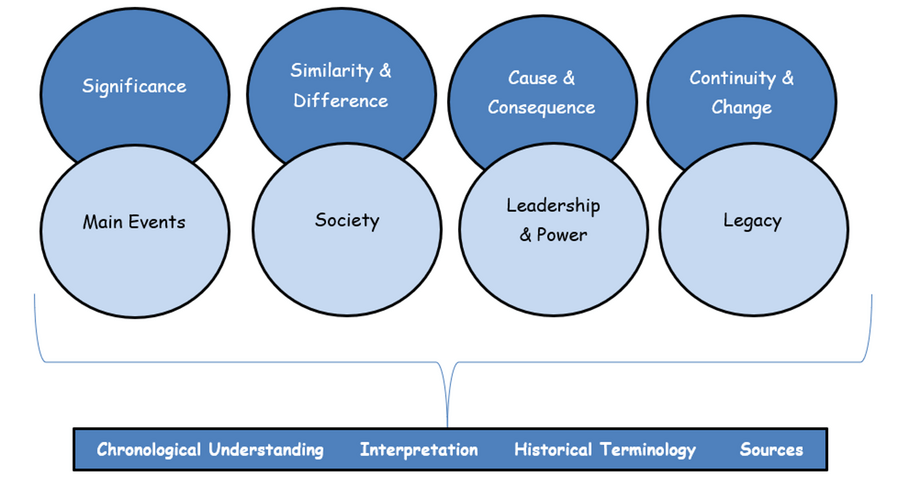 The Substantive Concepts
These historical concepts are significant and appear in many of the history topics covered. They are fundamental to the understanding of history and by identifying the topic that it is taught in, teachers are able to build upon, and reinforce, prior understanding.
Subject Content
The History curriculum at St Patrick's has been designed to ensure the National Curriculum for history has been covered, whilst personalising it to our local area and to capture the children's interest.
Whole-school Key Concept Progression
History Symbols
To support our children's understanding of key concepts, we have designed some symbols that are used in conjuction with the history curriculum. Through linking a symbol to the concept, our children are able to swiftly grasp what it means; because the same symbols are used throughout school, this enables them to develop a deeper understanding of them and apply them to a range of historical periods and topics.
Medium Term Planning
All planning is devised using the same format. This is to support teaching and learning and support planning for consolidation and progression. The planning includes links to other curriculum areas and when guided reading is required to enhance learning.
Early Years
| Name | |
| --- | --- |
| Early Years History Overview.pdf | Download |
Showing 1-1 of 1
Learning in Action
We take every opportunity to enhance our learning in History. This includes using historical sites in our local area, as well as visiting local museums and participating in workshops.