Open Day Reception 2019
Open Day Reception 2019
1 October 2019 (by admin)
Is your child due to start nursery in September 2020? Come along to see what our school can offer your child on our open day! Thursday 21st November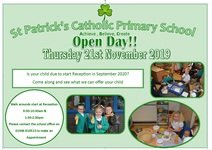 We are holding an open morning for any parents for children who are due to start school in September 2020 and are trying to make a decision on their child's school place.
Come along to St Patrick's and see what we can offer you!
Contact the school office to book your slot between 9:30-10:30am or 1:30-2:30pm
We look forward to meeting you!