Week Beginning 15th June
Daily Messages
Friday 19th June 2020 - Morning message from Gracie
I hope you are all okay. I am missing everyone a lot. I have been enjoying playing with Bobby, I have been playing outside a lot and going for walks. Yesterday I had a picnic with my friend.
Don't forget that today is DT day so enjoy getting crafty and designing, as always please let us know what you have been up to!
The document of activities to choose from is uploaded below, scroll to the very bottom of this page!
So far we have only received two examples of yesterdays writing which will be entered into the writing competition. Thank you to Joanna & Coben, I thoroughly enjoyed reading your version of the next chapter in Idris' life! These can be read on the 'our learning' page.
Even if you don't want your work entered into the competition please do still send in examples of the work you have been completing, we really do love to see what you are doing.
Thursday 18th June 2020 - Message from Aaron
Good morning year 3. I have been playing on my Xbox a lot with my friends and doing my school work with my Mam. I have been enjoying days out with my family catching fish at Wasdale, running at Muncaster and looking for crabs at the beach. I have been able to see my cousins again too which has made me happy.
Wednesday 17th June 2020
Today's message is from Eva!
Good morning everyone, I hope you are all well and happy. Yesterday we had to think about happy memories and paint a picture. My best memory of lockdown was the trip I went on to Buttermere, we had a brilliant time! Swimming and playing! Me and my mam swam all the way to the little island, it was so exciting! I hope that you are all making happy memories with your families.
Miss you all, love from Eva xx
Tuesday 16th June 2020
Sadly, we have had no other volunteers for writing our morning message. Hopefully tomorrow we will have a couple to choose from! Fingers crossed!
Being Thankful and Generous
Idris' circumstances in the story were much harder than ours currently are. As a refugee, living in a camp after fleeing his home, he didn't have any of the comforts we are used to. This can remind us how fortunate we are, even in our present situation.
Over the next week, as we concentrate on looking after our well-being, keep a journal every day and just write down something you are grateful for each day. It will help you to appreciate all of the little things.
Another way in which we can improve our own well-being is actually by doing things for others. Giving is proven to boost your mood so doing a little something for someone you love will make you both feel good! You could also record these little acts of kindness and generosity in your journal to look back on to give you a little boost.
Monday 15th June - Thanks to Kian John for sending in this lovely message to you all!
Good morning year 3, I hope you have all had a good weekend. I have been busy helping my mam decorate my bedroom. And me and my little sister has just got some guinea pigs. We have named them Ben and Rashford can you guess which is mine ?
I am missing all my friends and teachers. I can't wait to see you all again and get back to school. Love Kian
This week's Learning
"Hope is the belief that circumstances will get better. It's not a wish for things to get better, it's a belief that they will."
Although circumstances aren't at the moment how we would like them to be, we can all hold on to our hope and the knowledge that after every storm comes a rainbow.
This week, we are focusing our English lessons and afternoon sessions on a new book (we cannot tell you the name of this book yet!). There is a theme running through the book and you need to work it out and think about how it links to your life.

We will also be having a writing competition at the end of the week – we would like everyone to enter!
There will be a PRIZE for the writing that has the
greatest impact upon Miss Wilkinson and Mrs Pritchard!
We hope that you enjoy the book and the activities. Again, we ask that you keep in touch and send us examples of your work!
Monday 15th June
Here is the image you will need for your prediction task. Once you have completed this activity, read the story.
Over the next week, as we concentrate on looking after our well-being, as part of your literacy work try to keep a journal every day and just write down some thing you are grateful for each
day. It will help you to appreciate all of the little things in your lives.
Here is the book we will be using for this weeks learning.
MENTAL MATH BOOSTS EMOTIONAL HEALTH!
This week all of our maths sessions will allow you to take part in some brain training for better mental health!
There are lots of 'mental maths' activities on the following web page Topmarks - things like Daily 10, which we know you all enjoy! Start each daily maths session with one of these!
Monday 15th June
Maths
Geometry: Identify horizontal and vertical lines of symmetry
Get your brain going with an activity from Topmarks or Timetables Rockstars
https://www.bbc.co.uk/bitesize/topics/zrhp34j/articles/z8t72p3 Watch the video clip and complete the activity set on purplemash as a 'to do'
https://www.purplemash.com/#app/pup/maths_activities_Y4_shape_Lines_Symmetry
Look at the image of the pink house from the book on page 13. Discuss any aspects of symmetry that you notice? Explain your understanding of lines of symmetry and have a hunt through the book for anything else that you know is symmetrical. What about in your house or in the garden?
Activity
Redesign the house from the book so that it is symmetrical. Alter its features so that it includes some horizontal, vertical and diagonal lines of symmetry.
Tuesday 16thJune
Maths
Sequences: Creating Patterns.
Warm up your brain by having a go at this:
https://mathsframe.co.uk/en/resources/resource/42/sequences Have a go at levels 4-10
In this weeks story we learn that Idris lived in a world with no trees to give shade, no rivers to drink or sea to swim. All the things that we take for granted and up until recently have probably not appreciated as much as we should have. Nature is a gift to us all and can you believe it also linked to......MATHS!!!!
What other patterns can you see around you? Carpets, wallpaper, walls etc. You could create a collage of pictures to record your findings and send to our home learning email address.
Wednesday 17th June
Maths
Yesterday you had a go at creating your own spiral patterns. Before you start today's activities why not kick start your brain with a bit of problem solving?
Have a go at solving a Pattern Puzzle (click to be redirected) you may need to tessalate (turn) the shape to complete it!
Have you ever pulled the petals off of a sunflower or a daisy? If you look closely at their centres you will find that it is not solid. It is made up of sets of spirals that go out from the centre. Look at the centre of this sunflower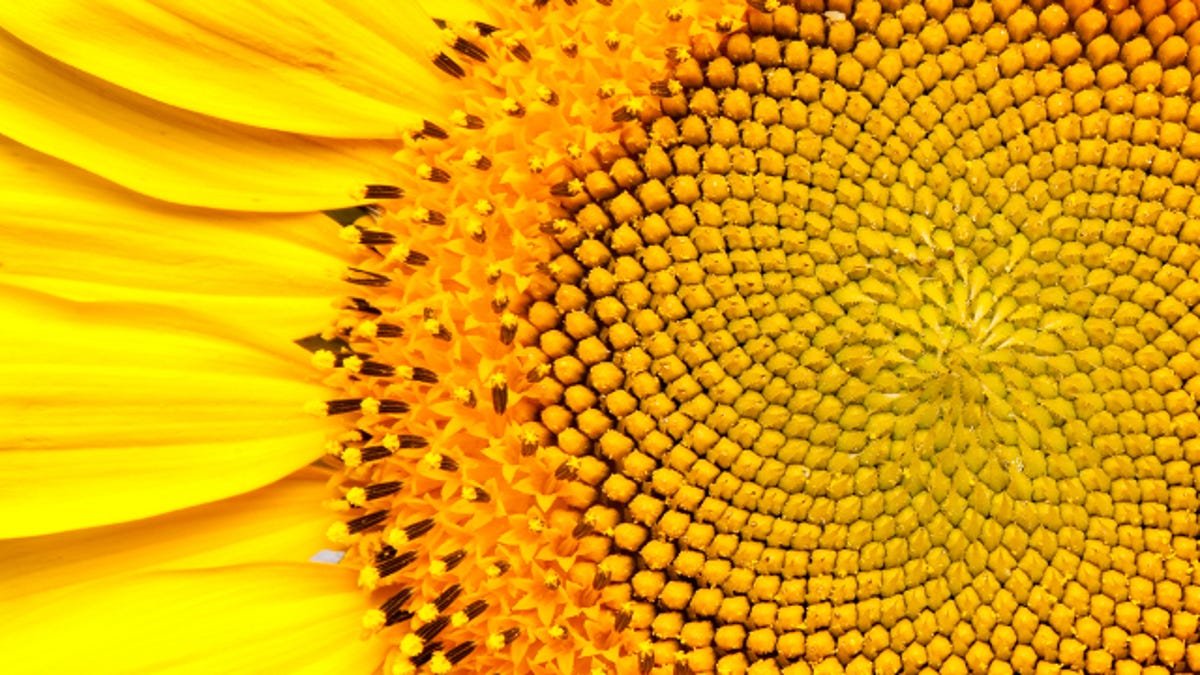 Do you see how packed in the seeds are? But none of them gets smashed. The spiral pattern lets the flower fit the most seed heads in the least space.
It's not just flowers either, you can find this pattern in lots of natural things!
Nature is all about math.
To understand the spirals in daisies and lots of other things in nature we have to meet a man named Leonardo de Pisa. Most people know him as Fibonacci. We have adapted the presentation below for you to help you understand quite a complex mathematical idea! Work through it and complete the activities and if you like have a go at the challenge!
Thursday 18th June
Maths
Problem solving helps you to improve your mental agilty and allows you to think 'outside the box' to find solutions. Try solving this challenge. You can set the difficulty at the top.
https://www.mathsisfun.com/games/towerofhanoi.html
What do you notice about the image below? Does it remind you of anything from yersterday? What shape is it? Is it similar to any of the images from the book that we have been focusing on?
Today we want you to create your own Fibonacci Spiral! All the information that you need is included in the document below. You will have received a message from school last week to let you know that graph paper could be collected if you wanted some. Just in case you didn't get the chance then you can download some below. Don't worry if that isn't possible - you can draw the Fibonacci pattern onto any piece of paper using a ruler. If you are creating it straight onto paper then all of your squares can simply be drawn in centimetres - 1cm x 1 cm, 2cm x 2cm, 3cm x 3cm etc etc
Once you have drawn your Fibonacci spiral - can you disguise it as something from nature, like in the image shown above? There are a few ideas shown below. Once you have completed this you like to do some Fibonacci inspired mindfulness colouring. There are plenty to choose from in the document below.
We can't wait to see your Fibonacci inspired art work! Please share these with us!!
Fun Friday Design Technology Day Activities
Today there are a range of design technology focused activities for you to do with your family. Don't forget to upload your pictures of you work to show us what you have designed and made.