Phonics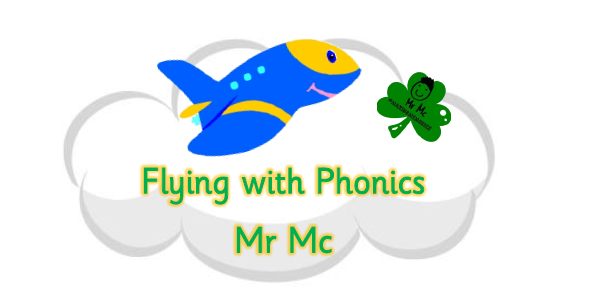 We teach phonics through a multi-sensory approach called Flying with Phonics.' Children take part in daily phonics sessions learning through fun, interactive and fast paced activities. Children learn letter names, sounds and formation through a variety of rhymes and mediums. Letters are taught in a specific order to enable children to create and read words as quickly as possible.
The children are taught to read words by blending, which means pushing all the sounds together to make a word. The children are taught to spell words by segmenting, which means sounding out words and writing down the sounds that they can hear.
Phase 1
Phase 1 concentrates on developing children's speaking and listening skills and lays the foundations for the phonic work which starts in Phase 2. The emphasis during Phase 1 is to get children attuned to the sounds around them and get them ready to begin developing oral blending and segmenting skills.
Phase 1 has 7 aspects:
1.General sound discrimination- environmental sounds
2. General sound discrimination - instrumental sounds
3. General sound discrimination - body percussion
4.Rhythm and Rhyme
5. Alliteration
6. Voice Sounds
7. Oral Blending and segmenting
Phase 2
Phase 2 letters and their sounds are introduced one at a time. A set of letters is taught each week, in the following sequence:
| | | | | | |
| --- | --- | --- | --- | --- | --- |
| Set 1 | s | a | t | p | |
| Set 2 | i | n | m | d | |
| Set 3 | g | o | c | k | |
| Set 4 | ck | e | u | r | |
| Set 5 | h | b | f, ff | l,ll | ss |
As soon as each set of letters is introduced, children will be encouraged to use their knowledge of the letter sounds to blend and sound out words. For example, they will learn to blend the sounds s-a-t to make the word sat. They will also start learning to segment words. For example, they might be asked to find the letter sounds that make the word tap from a small selection of magnetic letters t-a-p.
Phase 3
Phase 3 - children will already be able to blend and segment words containing the 19 letters taught in Phase 2. The children then get taught the sets below
| | | | | |
| --- | --- | --- | --- | --- |
| Set 6 | j | v | w | x |
| Set 7 | y | z | qu | |
| Constant Digraphs | sh | ch | th | ng |
| Vowel Digraphs | ai | ee | igh | oa |
| | oo | ar | or | |
| | ur | ow | oi | |
| | ear | air | ure | er |
Children will then be at a stage where they will be developing their reading and writing skills using the above letters and digraphs.
The cow lived on a farm.
Phase 4
Children entering Phase 4 will be able to represent all 42 phonemes with a letter, able to blend to read and segment to write CVC words. They will have some experience of reading two- syllable words and captions. Phase 4 will help children consolidate children's knowledge of graphemes in reading and spelling words containing adjacent consonants and polysyllabic words.
Phase 5 - alternative graphemes
Children entering Phase Five will already be able to read and spell words such as trap and milk. They will also be able to read and spell words with more than one syllable. They will then be taught alternative graphemes and split diagraphs.
Alternative Pronunciation of Graphemes

ay

ou

ie

ea

oy

ir

ue

aw

wh

ph

ew

oe

au

ey

Split Diagraphs

a-e

e-e

i-e

o-e

u-e
Tricky Words
The children also learn tricky words, these are words that cannot be sounded out and must be learnt by sight and recognition.
Set 1- I, the, to, go, no
Set 2- he, she, me, we, be,
Set 3- they, all, you, my, was,
Set 4- said, are, have, like, so
Set 5- some, come, were, little, there
Set 6- one, out, do, what, when
Set 7- oh, Mr, Mrs, people, their
Set 8- looked, called, who, again, asked
Mr Mc - Super Power Words - Watch the videos to help learn out tricky words
Early Writing
Children need to....
Learn that marks/ letter shapes have meaning
Learn that words that they say can be written down and then read back
Learn that sounds (phonemes) are represented by letter shapes (graphemes)
Ways that you can help at home...
Let them see you writing, and say the words as you write them
Write labels, diaries...
Write things together, encouraging mark making
Practice writing their name or other letter shapes
As adults we always encourage children to have a go and value the marks that they make- even if they are not "neat" or "correct".
Please ask a member of the EYFS team if you have any questions.
FAQ
What is a phoneme?
-The smallest unit of sound in a word.
What is a grapheme?
- A letter or letters that represent the sound.
What is blending?
Recognising the phonemes in a written word (c-u-p) and blending/ merging the sounds together, in the order in which they are written to pronounce the word (cup). This is a vital reading skill.
What is segmenting?
Segmenting is the opposite of blending! Children are able to say a word and then break it up into the phonemes that make up the word. This is a vital spelling skill. e.g d-o-g/ c-a-t.