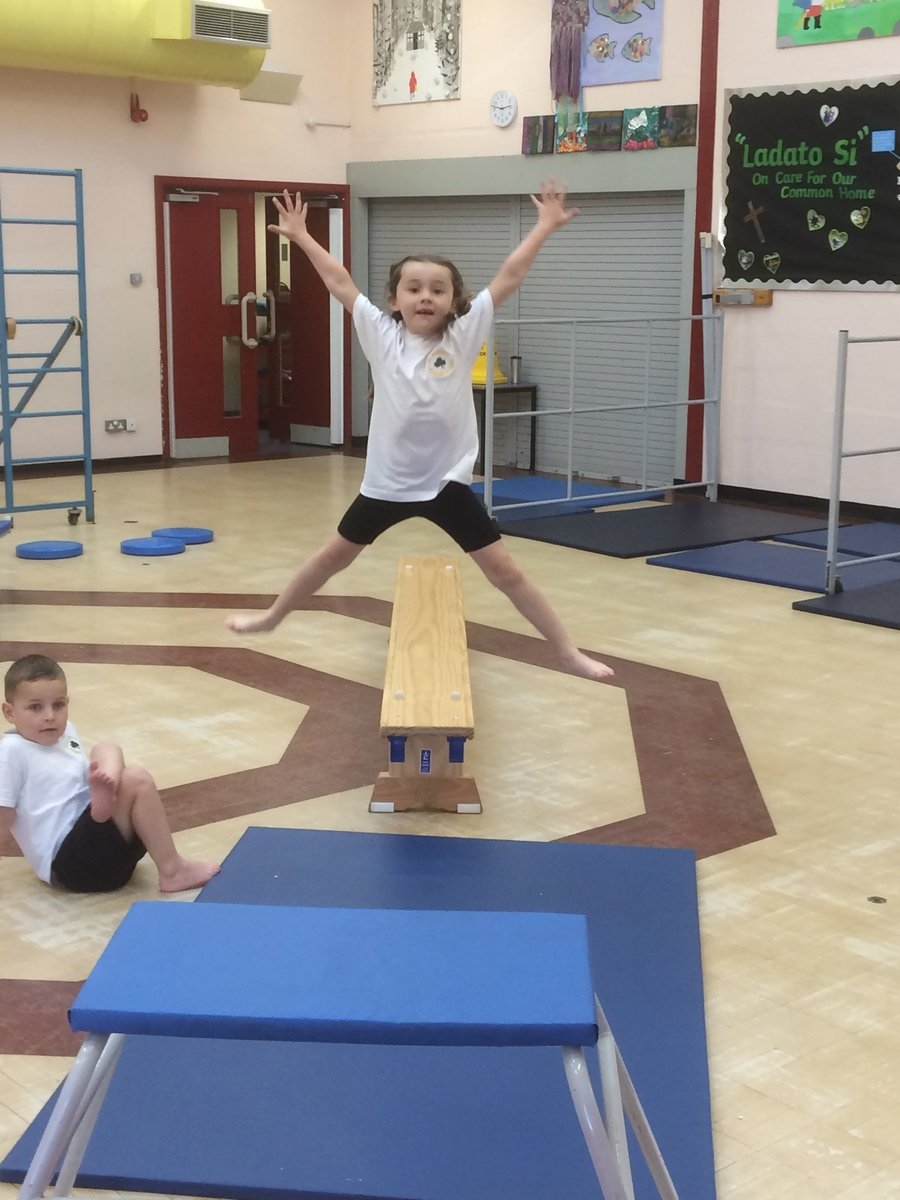 St Patrick's Catholic Primary School
Whole School P.E Overview
Reception

Autumn Term 1

Autumn Term 2

Spring Term 1

Spring Term 2

Summer Term 1

Summer Term 2

Games unit 1: focus on using bean bags

Dance

Dance: Chinese dance

Games unit 2: focus on using a ball

Games unit 3: focus on using hoops and quoits

Games unit 4: focus on using ropes, bats and balls

Introductory unit: use of space, footwork, awareness of the body, directions
Gymnastics unit A: travelling
Gymnastics unit B: curling and stretching
Gymnastics unit C: taking weight on different body parts
Athletics / sports day

Year One

Autumn Term 1

Autumn Term 2

Spring Term 1

Spring Term 2

Summer Term 1

Summer Term 2

Games unit 1: Focus on ball skills and Games

Dance: body part awareness: follow my leader, Autumn leaves dance, firework dance, castle banquet dance

Dance: winter dance, traditional dance steps: folk dancing, moving objects: bubbles dance, space, directions and levels: space dance

Games unit 2: throwing and catching/aiming games

Games unit 3: bat /ball skills and games-skipping

Games unit 4: developing partner work

Gymnastics unit D : flight – bouncing, jumping and landing

Gymnastics unit E

Points and patches (balances)

Gymnastics unit F: Rocking and Rolling
Gymnastics unit G: Wide, narrow, curled
Athletics / sports day

Year Two

Autumn Term 1

Autumn Term 2

Spring Term 1

Spring Term 2

Summer Term 1

Summer Term 2

Games unit 1: throwing and catching – inventing games

Dance: body part awareness – snake dance, clever hands and feet. Firework dance castle banquet dance

Gymnastics unit I: pathways, straight, zig zag and curving

Games unit 2: making up a game

Dance: country dancing / competition

Games unit 4: group games and inventing rules

Gymnastics unit H: parts high and parts low
Gymnastics unit J: turning, spinning, twisting
Gymnastics unit K: linking movements together
Games unit 3: dribbling, kicking, hitting
Althletics / sports day
​
Year Three

Autumn Term 1

Autumn Term 2

Spring Term 1

Spring Term 2

Summer Term 1

Summer Term 2

Games unit 1: ball skills – invasion focus

Gymnastics unit M: symmetry and asymmetry

Gymnastics unit N: Pathways

Gymnastics unit O: travelling with a change of front and change of direction

Games unit 2: creative games making
Games unit 3: net/ court/ wall games
Games unit 4: striking/ fielding games
Gymnastics unit L: stretching, curling, arching
Swimming
Dance:
Athletics / sports day

Year Four

Autumn Term 1

Autumn Term 2

Spring Term 1

Spring Term 2

Summer Term 1

Summer Term 2

Games unit 1: net / court/ wall games
Gymnastics unit Q: receiving body weight
Games unit 2: problem solving and inventing games

Gymnastics unit R: balance leading into change of front or direction

Gymnastics unit S: Rolling

Games unit 3: Invasion games
Games unit 4: striking and fielding games
Gymnastics unit P: balance
swimming

Dance: Native Americans dances

Athletics / sports day

Year Five

Autumn Term 1

Autumn Term 2

Spring Term 1

Spring Term 2

Summer Term 1

Summer Term 2

Games unit 1: net/ court/ wall games
Gymnastics unit T: Bridges

Dance: Indian dancing / Bollywood dancing

(contrasting actions, patterns, actions)

Games unit 2: Invasion and target (ball handling)
Games unit 3: Invasion Games (implement and kicking)
Games unit 4: striking and fielding games
Swimming
Gymnastics unit U: Flight

Gymnastics unit V: functional use of the limbs

Gymnastics unit W: Spinning and turning

Athletics

Year Six

Autumn Term 1

Autumn Term 2

Spring Term 1

Spring Term 2

Summer Term 1

Summer Term 2

Games unit 1: Invasion games- Implement and kicking (hockey / football)
Gymnastics unit X: matching, mirroring and contrasting

Dance: winter

Creating a story with simple characters,

Expressing feelings

Games unit 2: net/ court/ wall games

(volleyball and tennis)

Games unit 3: striking and fielding games
Games unit 4: Invasion games (netball, basketball, rugby)
Swimming
Gymnastics unit Y: synchronisation and canon
Athletics
Gymnastics
Our year 2 gymnastics team recently competed in the local schools event held at St Gregory's and St Patrick's in Whitehaven.
We came second overall in the large schools category and all our children recieved beginners certificates and some even managed the intermediate award! Well done year 2 team!
Multiskills
Recently a selection of Year 1 and Year 2 children attended a Multiskills festival at St Benedict's School. They took part in lots of fun games and challenges!
Take a look at some of the fun things they did: